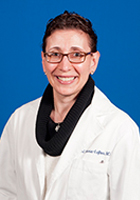 Anoia-Loftus, Elizabeth, MD
Address:
1800 Byberry Road
Ste 1203
Huntingdon Valley, PA, 19006
Dr. Anoia-Loftus is a Board Certified Urologist who has been practicing since 2006 in the Philadelphia area.
She received her Undergraduate Degree from Villanova University, Villanova, PA, and her Medical Degree from Georgetown University School of Medicine, Washington, DC. She completed Residency at Case Western Reserve University, Cleveland, OH, and Fellowship in Reconstructive Urology, Female Urology, and Urodynamics, at Duke University Medical Center, Durham, NC.
Dr. Anoia-Loftus is a member of the following societies:
American Urological Association
American Urological Association, Mid-Atlantic Section
Society for Urodynamics & Female Urology, Active Member
Society of Woman in Urology, Candidate Member
Endourological Society, Associate Member
American Association of Clinical Urologists
Dr. Anoia-Loftus has a special interest in male and female voiding dysfunction.